Elbow
Elbow Anatomy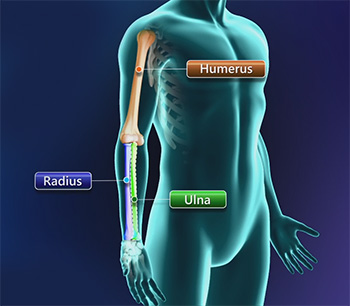 The elbow is a complex joint formed by the articulation of three bones –the humerus, radius and ulna. The elbow joint helps in bending or straightening of the arm to 180 degrees and assists in lifting or moving objects.
Conditions
Procedures
Elbow Joint Replacement, also referred to as Total Elbow Arthroplasty is an operative procedure to treat the symptoms of arthritis that have not responded to non-surgical treatments.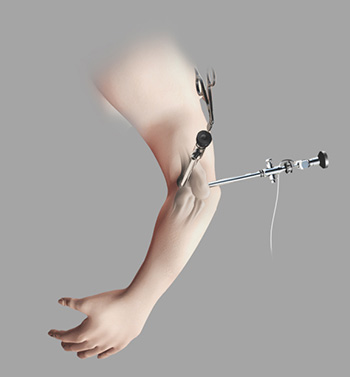 Elbow arthroscopy, also referred to as keyhole or minimally invasive surgery, is performed through tiny incisions to evaluate and treat several elbow conditions.
Ligament reconstruction is considered in patients with ligament rupture. Your surgeon will make an incision over the elbow. Care is taken to move muscles, tendons and nerves out of the way. The donor tendon is harvested from either the forearm or below the knee. Your surgeon drills holes into the bones of the upper arm and the forearm, around the elbow joint. The donor tendon is inserted through the drilled holes in a pattern like that of the original ligament complex. The tendon is then attached to the bone surfaces with special sutures.
The common symptoms of injury to the elbow joint and its surrounding structures include swelling and pain, which may extend from the elbow to the forearm and palm and be aggravated by movements of the wrist. Sometimes instability of the joint may also be seen.
The repair of the damaged tendon is broadly classified into two types- tendon debridement and tendon release.
Elbow contracture refers to a stiff elbow with limited range of motion. It is a common complication following elbow surgery, fractures, dislocations, and burns.
Ulnar nerve decompression is a surgical procedure performed to relieve compression of the ulnar nerve as it passes through the elbow joint. A small incision is made on the inside of the elbow and the band of connective tissue that is constricting the ulnar nerve is incised. Removal of a small part of the bone and repositioning of the ulnar nerve may also be performed.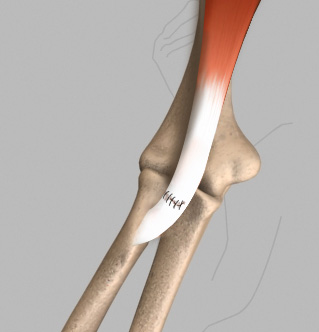 The biceps muscle is located in front of your upper arm. It helps in bending your elbow, rotational movements of your forearm and in maintaining stability in the shoulder joint. The biceps muscle has two tendons, one of which attaches it to the bone in the shoulder and the other attaches at the elbow. The biceps tendon at the elbow is called the distal biceps tendon. A tear in this tendon will make it difficult for you to move your arm from the palm down to palm up position. Once the distal biceps tendon is torn, it cannot regrow back to the bone and heal by itself. Permanent weakness during rotatory movements of the forearm may occur if the tendon is not repaired surgically.