Steroid Injection for Hand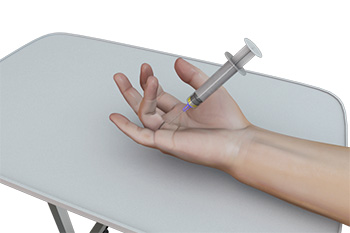 Steroids are medications with anti-inflammatory properties that may be injected into areas of the body such as the joints to relieve pain and swelling. They are fast-acting and more effective than oral anti-inflammatory medications which can sometimes cause stomach upset.
Steroids may be injected into the major joints such as the knees, hips, spine, ankles, wrists and elbows as well as the minor joints of the hands and feet. They are usually combined with a local anaesthetic to enhance pain relief.
Steroid injections are mainly used for the relief of joint pain due to arthritis but may be used to treat a variety of inflammatory diseases including gout, carpal tunnel syndrome, rotator cuff injuries, frozen shoulder, tennis elbow, and lupus.
To perform a steroid injection, the skin over the joint is cleansed and anesthetized. You are adequately positioned to facilitate easy insertion of the needle. Some injections are performed under live X-ray or ultrasound imaging to help your doctor guide the needle to the precise location. You will probably feel pressure when the needle is inserted. Following the injection of medication, there may be pain or redness at the injection site. Ice packs are applied to the injection area to reduce pain. Ice should be applied over a towel for 20 minutes every hour.
Following a cortisone shot, there may be an increase in pain and inflammation which may last a few hours to 2 days. After this, the medication takes effect and results can last for weeks to months.
You are advised to rest for a day or two and observe for signs of inflammation (pain, redness, swelling). Any prolonged symptoms should be reported to your doctor.
Steroids injections may be associated with certain complications especially with prolonged use. These include joint tissue damage, nerve irritation, bone weakening, and infection. To reduce the risk of complications, a limited number of steroid injections are administered in a year.